What's new
Subscribe to our RSS feed
25th August 2007
Portfolio update
I mentioned in a previous post that I'll be updating the portfolio page with some recent projects. I've finally managed to get round to it and have added the Climate change weather studio, three Find out more exhibits, the Science news quiz and Wasted – The recycling game. This is making the portfolio page look pretty long so I'm going to have to start thinking about ways to make it easier to find what you want. The question is what criteria do people use when looking through it? Are they looking for particular subjects (science or art?), types of interaction (games, browsing or immersive?), or form factor (touchscreens or projections?). Hmm, I suspect a mixture of all three and a few more besides.
3rd August 2007
Science news quiz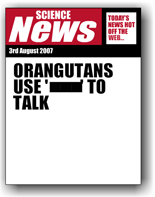 The Centre for Life were looking for an exhibit to display the latest science news feeds from the internet. The problem is this isn't really new any more. My local Sainsbury's has a newsfeed display and so do some of the bus stops here in York. Nobody takes any notice of them. So we came up with the idea of turning those news headlines into a simple Have I got news for you style missing words quiz. The one in the Centre for Life is displayed on a huge 55 inch screen, complete with thumpable push buttons and "uhh-ohh" noises. Needless to say its a great hit with visitors and who leave knowing far more about what's happening in science than they ever expected.
2nd July 2007
Wasted – The recycling game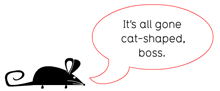 Some of you will have noticed that this news column went a bit quiet during the last few months. This wasn't because nothing's happened – more the opposite really. I've been so busy I haven't had time to keep it updated. Things are a little calmer now and I'll be gradually posting reports of what I've been doing. The first of these is a game about recycling for the Science Museum in London. In Wasted you have to recycle as much rubbish as possible before it fills up your bedroom. To make matters worse your mum and dad are out shopping for more stuff – you need to give them the right advice to avoid getting even more rubbish. The only good news is that you're being helped by your two pet mice. Yes, it's going to be one of those days…
12th June 2007
New office (again)
I spent most of last week moving office and sorting out things like broadband. I had to move out of the old one as York Council have decided to knock it down and build a home for the homeless there instead. My new address is 35 Hospital Fields Road, York, YO10 4DZ. Phone number and email address stay the same. The new office is still only about 100 metres from the river and about 10 minutes walk from my house. There's also a few extra facilities that the old one didn't have such as an entryphone and heating.
Programming job
It's reached that stage when I've got far, far too much to do and I need to employ someone to do programming. Of course that's just the start, I'm looking for someone keen to learn and try new things and I'll be looking to train you up on projectors, physical interfaces, graphics and everything else I do. If you're interested here are some more details. The closing date for applications is 31st July 2007.
8th February 2007
Find out more about Merchant Adventurers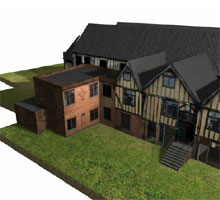 I've put some more information about the Find out more exhibit that I made for the Company of Merchant Adventurers on the web. The exhibit contains the complete story of the hall as well as 3D reconstructions, a timeline and a quiz. Building the 3D model was no easy task as the hall is over 650 years old and there's almost no right-angle joints in the whole structure. You can see a sample of the 3D reconstruction of the hall here and some screen shots from the exhibit here.
22nd January 2007
Be a merchant game on the web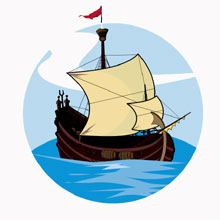 I've finally got round to putting the Be a Merchant game I made for the Company of Merchant Adventurers on the web. This is one of two kiosks which I created for the 'Meet the Merchants' exhibition which opened in December 2006. You take the role of a medieval trader and have to sail all over Europe to make as much money as possible. As well as being a touchscreen kiosk, this exhibit will be on the Company website and be distributed on a CD to schools.
Play Be a merchant
16th December 2006
Merchant Adventurers' Exhibition Opening
The Company of Merchant Adventurers opened their exhibition, 'Meet the Merchants', on Saturday. I created two touchscreen exhibits for the exhibition which were very well received. After a number of speeches I gave a presentation explaining the exhibits and then we all went upstairs for a "Boar's Head Medieval Repast". This featured a couple of Boars' heads being brought in accompanied by a three piece band and choir singing The Boar's Head Carol – partly in Latin (naturally). As you would expect this made quite an impression and the lunch was excellent. I'm looking to post web versions of the exhibits on this site pretty soon so watch out for them.
30th October 2006
New office
I've moved to a new office! At the moment everything is still in boxes but when its unpacked there will be a lot more space. It's a great location, right in the centre of town – next to the river. Luckily the office is on the first floor so the traditional York floods aren't likely to be a problem. Please note my new phone number 01904 624681 and address The Fishergate Centre, 4 Fishergate, York, YO10 4FB
12th October 2006
Walls film on the web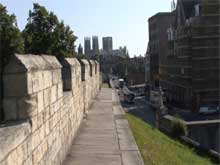 I've been meaning to put the film I made for the Bootham Bar installation on the web for a while and I've finally managed it. When you put a film on the web you have to trade off the size and quality of the film against the amount of time it takes people to download it. The finished result isn't quite as splendid as the high-definition original but it does bring a new excitement to the idea of walking around the walls. Have a look for yourself – you'll need broadband to make it work.
« Newer Posts
—
Older Posts »